Berlin Fashion support Ukraine
During Berlin Fashion Week, they invite you  to join to collect funds in #solidaritywithukraine and at the same time, to create beautiful, professional portraits for you, with a full team, including: photographer, makeup, stylist, and an arsenal of sustainable and one of a kind fashion. 
Tata Christiane will be part among all the designers of the store to the KONK event, organized by the photographer Kaska Jankiewicz and the Konk Owner, Katja Wetzel
Berlin Fashion support Ukraine, the team
@kaskajankiewicz – photographer & retouch
@klisamonw – styling & set design
@makeup_pablobarckhahn – makeup
@mua.kc.cathy – makeup
@lisa.oberlaender – styling
@eleflar – copywriting & backstagefoto
Berlin Fashion support Ukraine, the Homo Faber Association
They will transfer all collected funds to the account of the Homo Faber Association from Lublin (they work for human rights and help not only refugees from Ukraine, but also are very active in helping people who are stuck on the Polish-Belarusian border).
ABOUT HOMO FABER
Berlin Fashion support Ukraine, make your appointement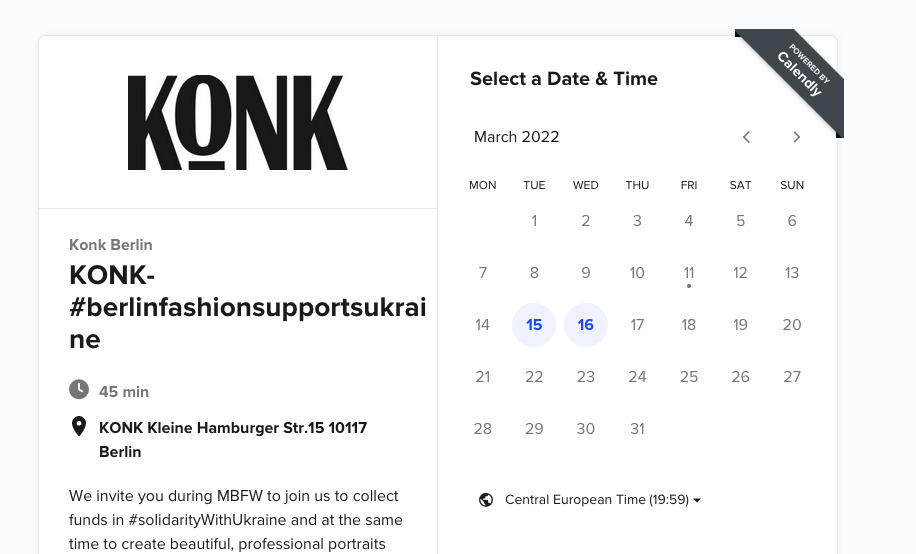 Berlin Fashion support Ukraine About Homo Faber Association:
On February 24th, shortly after the Russian invasion of Ukraine, we set up a refugee aid system in Lublin within a few hours. While working almost 24 hours a day, we are providing direct and indirect help to people escaping Ukraine.
Today in the committee we cover 17 different areas. There are over 100 volunteers on board, coordinated in working groups.
What do we do?
– we run a 24/7 helpline for refugees in several languages and an information desk;
– we manage the allocation of flats for people who need an accommodation (we are collecting applications and lodging refugees);
– we organise legal, psychological and medical assistance;
– we manage information on fundraising in Lublin;
– we coordinate institutions dealing with the care of refugees children;
– we coordinate the supply of food for refugees;
– we carry out transport of people and material assistance;
– we translate into Russian, Ukrainian, English and other languages, using the volunteer database;
– we work at railway stations by providing refugees arriving to the city with information;
– we collect data on the needs of people from Ukraine who went to Lublin and the resources that we have in the city in order to respond to these needs effectively;
– we create content, publications, guides, flyers and advertising materials
– we provide with information regarding the current situation.
Concluding, all of this has been done voluntarily for the last 7 days. Why are we just starting a fundraising? We have been working with 100% commitment during the whole week with our organisation and dozens of wonderful volunteers in Lublin. We feed ourselves, we take holidays at work, we use our private equipment, cars, we use the space of the municipal cultural institution as a guest.
Recent days have shown us that we have a lot of people involved into work process, but this crisis requires a long-term and systemic action. It cannot be implemented without financial resources. The current situation is just the beginning of the challenges that we face.
For the money that will be collected:
-we will provide volunteers with special equipment to work on the hotline;
– we will purchase office supplies, we will make professional prints of information materials;
– we will pay volunteers for fuel;
– we will send large-size transports,
– we will hire the necessary psychologists (also for the volunteers), translators and lawyers;
– we will provide permanent food to the crisis team which works 24 hours a day;
– we will organise Polish lessons for children and adults and much more. We think not only about what is happening now, but also about the future: what will be needed in the coming weeks and months.
That is why we are asking you for financial help and that is why we are grateful for your commitment so far.
If you do not want to use Facebook for remittance, we provide information for individual remittance.
Foreign transfers
In order to make a transfer from abroad to our account, you need to fill in:
– name and surname of the transfer recipient (Account Holder): Homo Faber Associacion
– full 26-digit account number of the transfer recipient (IBAN), before which you should additionally enter "PL":
PL 93 1940 1076 3069 8598 0000 0000
– payment title – please specify exactly what the transfer is for,
– name and address of the transfer recipient's bank: Credit Agricole Bank Polska SA ul. Legnicka 48 building. C-D 54-202 Wrocław, Poland
– SWIFT code (BIC) of Credit Agricole Bank: AGRIPLPR / AGRIPLPRXXX
PayPal
Homo Faber Association, ul. Chopin, 41, lok. 2, 20-023 Lublin, e-mail: info@hf.org.pl
You can do a transfer for any amount at once
Homo Faber Credit Agricole Bank Polski S.A. Association 93 1940 1076 3069 8598 0000 0000
Regular transfers
This is the most valuable form of support, because it is systematic – it ensures a regular inflow of funds for current activities. Set up a standing order on your account in the amount of, for example, PLN 8 (in the title, enter "donation for statutory purposes"). Homo Faber Association ul. Chopin, 41, lok. 2 20-023 Lublin Credit Agricole Bank Polski S.A. 93 1940 1076 3069 8598 0000 0000.