Deconstructed Couture
Contemporary Street Costume
Tata Christiane is a vision of the street costume. It proposes an absurd and disturbing vision of beauty, with decline, maladjustment, extravagance, and immoderation. It plays with the borders of elegance, digging up our old memories, recycling the waste of our civilization.
It is a monomania, a machination and a monstrous and sublime piece.
Tata Christiane could have been a punk, if she was not also an ambiguous queen, a one-eyed flutist, a gypsy woman, and a street child. Tata Christiane is for boys and girls, women and transvestites, men and old people, kings, queens and madmen.
Tata Christiane, presentation, history and quotes
Tata Christiane is a Berlin based fashion label founded in 2007 by Julie Bourgeois and Gabriel Santini. The brand develops two collections a year and In House collectors and unique pieces all year round.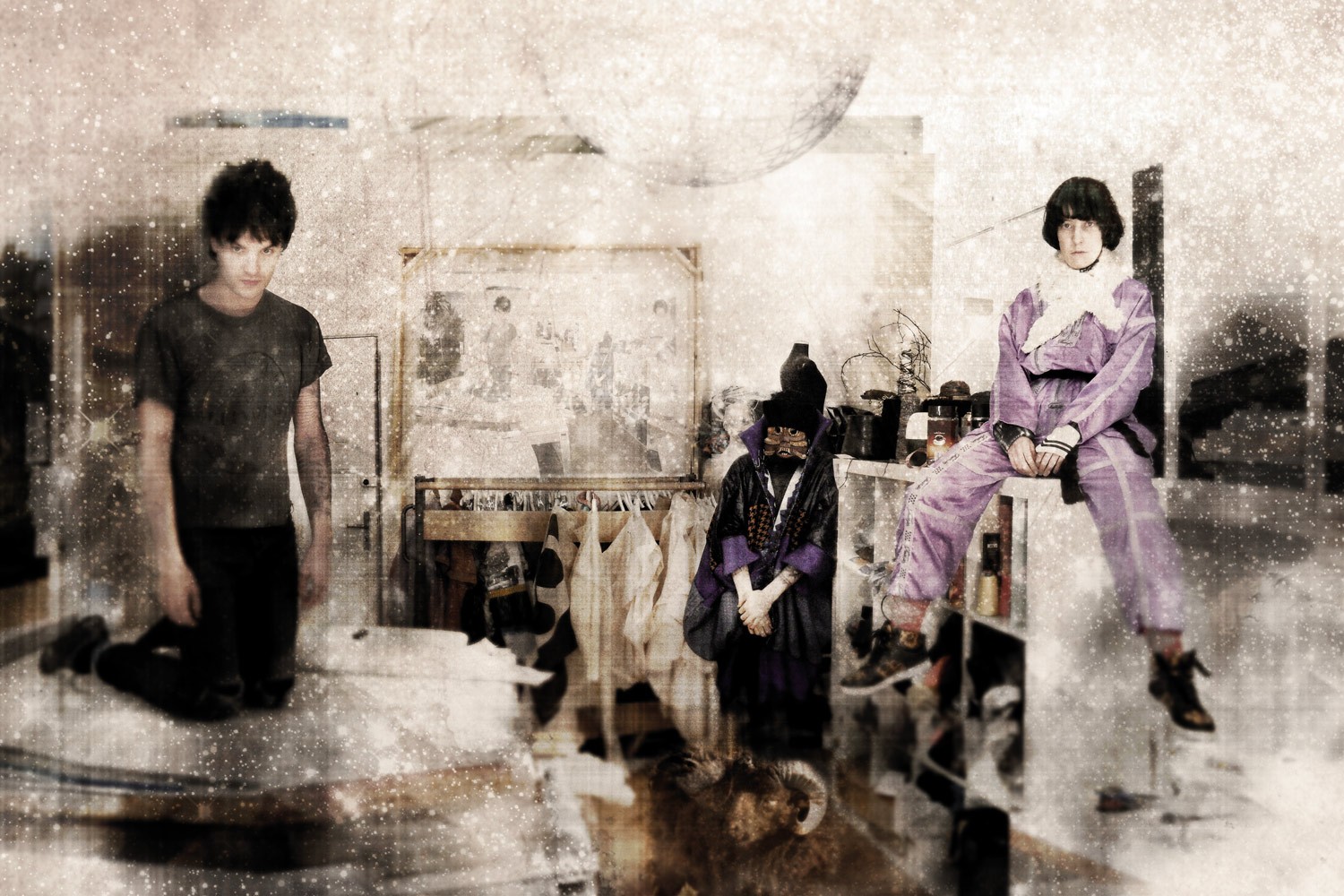 We stand for individuality, humor, fun and fantasy coupled with a slow and ethical way to approach dressing and being in the world.
The production is hand-made and collects small regional production practices. The focus is on a variety of different fabrics and techniques. Our sourcing is paying close attention to ecological materials, recycled textiles, up-cycling techniques, small quantities, vintage fabrics and found originals in forgotten cities.
Accordingly, the original prints, the cuts and the fabrics follow from the adaptation of poetic collage. In a word we bring into a contemporary street garment what we call deconstructed Couture.
The Collections
Tata Christiane creates two collections per year, spring-summer and fall-winter.
The trends of the collections follow the spirit of Tata Christiane's unique pieces, which bring together a rich palette of colors, raw materials and prints and patterns created by themselves.
The collections trends follow the spirit of the unique pieces mindset : a rich palette of colors, raw materials and self-made prints.
The collections are distributed in Japan, China, USA, Russia and Germany.
In a world of easy-to-access, an offbeat and strong individuality is the one way to stand out for our diversity.
Unique Pieces & Collector
The unique pieces and series are hand made in our studio in Berlin with care, time and pleasure of creativity.
Collector pieces are one of a kind. It follows a zero waste philosophy and ethic of fashion, by up-cycling all left overs from the collections and by mixing smalls coupons or vintage fabrics. A circular production completely made in our studio in Berlin.
The vision of the label is also to give people the opportunity to express their deep personality and spontaneity. Not only a transcript of constant day dreaming, but also a willingness to push the internal boundaries. Furthermore a look inside us, a search of freedom, freedom in creation and in being in the world.
In essence, a constant and relentless exploration of the imagination to enter a dialogue with the people and the world. "Fashion is art – it has to touch, wake up our real selves. It's more than just clothes, it's emotional and handcrafted.
Sustainability in fashion and quality achieved by craft, handmade work in the family-business-model and small regional production.
How we stand up?
– New Category in the Fashion Market
For us grows a new category "Contemporary Street Costume". A combination of Contemporary Art and Fashion. In Brief a deconstructed vision of Couture.
– Slow Fashion and Sustainability
"14 eco-responsible clothes that Carrie Bradshaw would wear in 2021" by Nina Helleboid"A unique creation from TataChristianeWhile Carrie Bradshaw is fascinated by luxury brands, that doesn't stop her from seeking out lesser-known designers to create a unique look for herself. Without a doubt, Berlin-based French designer Tata Christiane would be on Carrie's radar! We can totally see her wearing one of the upcycled dresses straight out of Tata Christiane's overflowing and poetic imagination. The designer recycles the "waste of our civilization" into "monstrous and sublime" creations. In short, unique and inimitable pieces, the Rolls Royce of upcycling!"
– Strong Connection to Art
Our pieces are not just clothes because they are unique and full of details. Their inspiration is littérature, drawings and painting, sculptures and installations. They are not one- dimensional, but have also a deeper meaning. It approaches spiritual people, who seek for an emotional touch in fashion.
Moreover, it proposes music and books because we believe in a broader meaning of fashion than just clothes. We collaborate with other artists, take part in many exhibitons and art events.
Collaborations:
Valquire Veljkovic – Robert Bartholot – Madame Peripétie – Jun Kim – Viviana Druga –Fredrik Altinell – Daria Marchik – Pierre Redon – Emilie Delugeau – Damien Vignaux – Elisa Cuccinelli – Daniel Lathwesen – Olivier Panama – France Fiction – Sonia Koumskoff – Wuhzen Theater, etc.
– Real Individuality
Finally we give the opportunity to express to authentic, spiritual people. Because we don't need to follow temporary fashion trends but our own identity. Like Individuality, personality, character, beliefs, taste mirrors a broad range of styles, textures, colors and patterns.
Worn By:
Moderat – Deichkind – Peaches – Kyary Pamyu Pamyu – Miss Platnum – Offrin – You say party – Lexy & K.Paul – Bonaparte – Ebony Bones – OY – Mary Ocher –WR2Old – Plateau repas – Aniaetleprogrammeur – Sebastien Tellier – Joey Ma… and all my lovely customers.
Fashion Week and Events:
Who's Next – Berlin Showroom – Berlin Alternative Fashion Week – Vietnam International Fashion Week – Harbin Fashion Week – Silk Road International Fashion Week – Open My Med Prize – Paris Fashion Week – FashionClash Maastricht. See more here.
The collections are presented Paris Fashion Weeks at the DACH- Berlin Showroom and on Tranoi Link but also during Tokyo Fashion Week at the Wut Showroom.
About Julie Bourgeois
Born in Marseille in 1980, after a DEA in Modern Literature and a Licence in Philosophy, I moved to Berlin in 2007.
In parallel to my studies, I taught myself to sew. My mother taught me to crochet at a very young age. I had to make my first bonnet for myself at the age of 12. At the same time of my university, I did some internships in Paris at Mine Barral Verges, Opera Bastille with Goury, and by the Marseille Paris based Designer Christine Palmaccio.
Later I started by making costumes for small theater and circus companies in Paris. Then I started to market a line of crochet accessories that were distributed for a few seasons in Japan by Abahouse International.
Finally I fall in Love with Berlin when I visited the first time in 2006. In 2007, I decide to move.
I worked for three years in a semi-gastronomic restaurant while I created the Tata Christiane label. Little by little, I started with collections of unique pieces. In 2011, the buyer of WUT store in Tokyo, Yann Le Goec, discovered me at a designer market in Berlin. He gave me a chance. For more than ten years I have been working with him and his distribution company HP France for the Japan market.
I still live and love living and creating in Berlin.
In 2020-2021, I received one the 13 scholarships from the Maison Mode Méditerranée Endowment Fund, on Tech, Craft & Care values. It is thanks to this fund in particular that we have been able to redesign our website in order to improve the experience of the visit but also to allow you to discover or rediscover the history of our label.