WHEN:
On 23.04. the NochMall is all about upcycling – because to be fashionable clothes and accessories don't have to come from fresh resources anymore!
From 12pm to 1:30pm the regional group of Fashion Revolution Berlin invites you to the upcycling auction of different designers and companies at NochMall to show you the variety, creativity and beauty of upcycling. Unique garments and accessories will be auctioned off for a good cause: 50% of the proceeds will go to #LeaveNoOneBehind, which is currently supporting refugees from Ukraine in particular, and 50% will go to the Fashion Revolution association, which is using these funds to continue its educational work and enlightenment. To find out who was involved in the production process of the fashion pieces and what the respective upcycling approach is, the designers and companies will be introduced.
You can expect pieces from Tata Christiane, Emeka Suits, Bridge&Tunnel, Up-Fuse, Anima Protection, Skarabea, Beverly Berlin, MOOT, Melisa Minca, SICA, Hannasin, Dzaino, bis es mir vom Leibe fällt, Thx Mate, Mainseam and many more.
Following our upcycling auction, from 2 p.m. to 5 p.m. in the open workshop, old pieces of clothing can be upgraded with a new screen print and become a new eye-catcher. So bring your old t-shirts, jackets or bags etc* and set them off with the slogan "Who made my clothes?" or this year's Fashion Revolution Week theme "Money Fashion Power".
You can find more information on the Fashion Revolution Germany Instagram account: fashrev de or fashrev_berlin 
We are looking forward to seeing you!
WHERE:
Address: Auguste-Viktoria-Allee 99, 13403 Berlin
Registration: None
Email: fashionrevolutionberlin@future.fashion
Instagram: fashrev_berlin
Cost: Free
Fashion Revolution Germany – About NochMall
NochMall is the first department stores' for second-hand goods in Berlin, which is much more than a second-hand department stores'. NochMall not only sells furniture, clothing, electrical appliances, household goods, toys, books and much more on more than 2,000 square metres to give them a second life, but NochMall is also a place to experience circular economy and waste prevention.
Fashion Revolution Germany – About
Fashion Revolution was founded in the wake of the Rana Plaza disaster in 2013. Since then, we have grown to become the world's largest fashion activism movement, mobilising citizens, brands and policymakers through research, education and advocacy.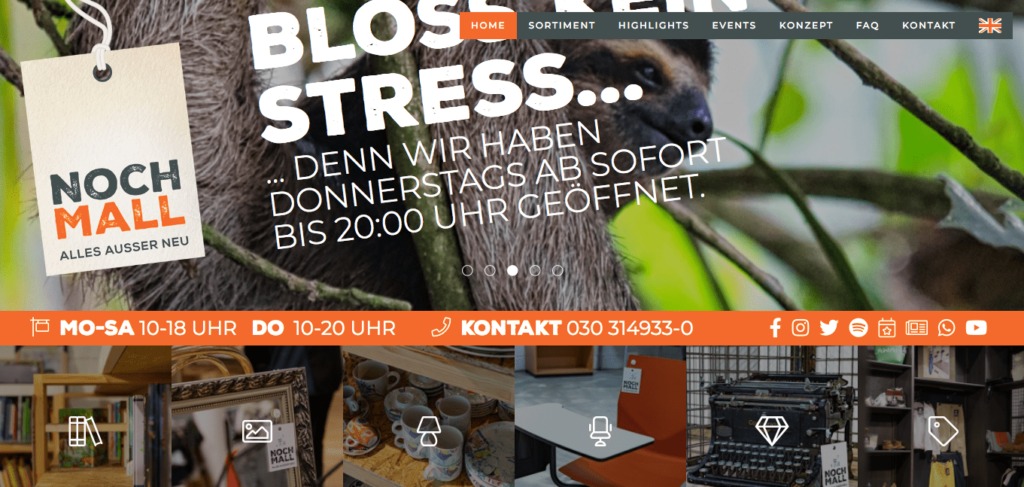 We are a global movement of people who make the fashion industry work. We are the people who wear clothes. And we are the people who make them.
We are designers, academics, writers, business leaders, policymakers, brands, retailers, marketers, producers, makers, workers and fashion lovers. We are the industry and we are the public. We are world citizens. We are Fashion Revolution.
The VISION
A global fashion industry that conserves and restores the environment and values people over growth and profit.
The AIMS
An end to human and environmental exploitation in the global fashion industry
Safe, dignified working conditions and living wages for all people in the supply chain
Redistributed and more equal balance of power across the global fashion industry
A bigger and stronger labour movement in the global fashion industry
A global fashion industry that works to conserve precious resources and regenerate ecosystems
A culture of transparency and accountability across the value chain
An end to throwaway culture and shift to a system where materials are used for much longer and nothing goes to waste
Heritage, craftsmanship and local wisdom are recognised and valued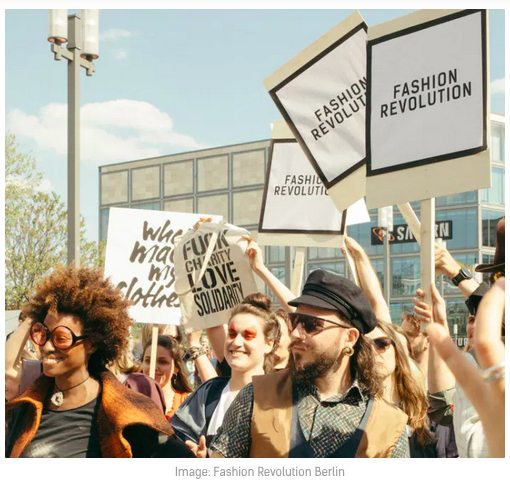 Fashion Revolution : HOW TO ACHIEVE CHANGE
CULTURAL CHANGE
Raise public awareness and educate people about the systemic challenges facing the global fashion industry
Build a diverse movement, mobilise communities and bring people together around the world to take collective action
Help people understand the impacts of their clothes and how they can influence the global fashion industry
Collaborate with artists and activists to reframe powerful narratives embedded in the culture of fashion
Create tools for people to use their voice and make changes in their personal lives and work
Inspire people to consume less, value quality and take better care of their clothes
Provide a platform that enables more visibility and fewer barriers between consumers and producers
Fashion Revolution Germany
INDUSTRY CHANGE
Conduct research that shines a light on the social and environmental impacts of the global fashion industry
Highlight where the industry is moving too slowly and push for faster change
Influence brands and retailers to change through consumer pressure
Incentivise and promote transparency and accountability across the supply chain
POLICY CHANGE
Advocate for policy changes and influence governments to play a more active role in better enforcing laws and regulating the industry