Les Rois Ambigus 1 "Who said: "A king without entertainment is a man full of misery"? *Jean Giono, Un Roi sans divertissement, 1947
Ambiguous kings pose the garment as a necessary celebration, the spirit of ceremony, the broadness of forms, the colours of ecstasy, the flexibility of their excess to reach a parody of the dimensions of the universe, the garment as fireworks, ultimate ornaments. Ambiguous kings wear ceremonial clothing with the seriousness of clowns and monarchs, until they lose themselves in their own contemplation.
To be continued….
Les Rois Ambigus 1 – Paris
Les Rois Ambigus 1 are still the first steps of the label between Paris and Berlin. The first Fall-Winter unique pieces from Tata Christiane
I was in between the 2 cities,  starting to settle in Berlin.
The first part of the shoot was done in Paris, with one of my best friends, Salim Djaferi, in my flat in Courbevoie.
The second part was shot in my room in Berlin with my roommate, Miriam Glinka.
I did a lot of crocheting, because I couldn't always carry my machine at the beginning, when I was straddling the two cities. It was an incredibly exciting time. I didn't really have a clear idea of what it meant to create a label.
I worked for 3 years in a super restaurant in Berlin to finance my early work as a designer. I am very grateful to this restaurant, Schneeweiss, who gave me the chance to work for them when I had no experience in this field.
On the other hand, I also chose Berlin because of the quality of life I found there despite my small income. Berlin is a city which at that time had a low standard of living. It is a great opportunity to start a business.
Les Rois Ambigus 1 – Sourcing
One of my first concerns when I started the label was where to find quality raw materials with a variety of materials. And one of my other issues was to find these resources within my very little budget.
It's a mixture of resourcefulness and careful research. Indeed, when you have almost no budget at all: how to find what to make new pieces and how to ennoble your production.
One of my solutions: crochet has allowed me to make pieces with a precious and quality finish due to the handwork and the mix of materials. Even if I was chasing wool on flea markets or in places where wool was sold out, the work of composition, of mixing techniques allowed me to have quality renderings while expressing my style.
One of the other solutions was to glean fabrics from vintage markets. Because I could find great raw materials that I could recycle. In these first unique pieces appear the first uses I made of vintage scarves. Indeed, I found in vintage scarves an infinite source of prints, colours and inspiration. Their unity was also in itself a source of pleasure and joy to create.
This resource work was like a treasure hunt.
Since I was very young in Marseille, I have always been obsessed with vintage or second-hand pieces. For me, like churches, they are the free museums. The Marché de la Plaine in Marseille was my first school of taste and fashion. With the stalls of second-hand clothes at 50 centimes Franc. I made my library of textiles and techniques.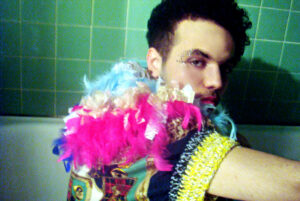 I collected and observed jumpers with incredible techniques and improbable mixes. By chance, I would get my hands on pieces from Chanel, Lacroix, Lanvin, etc. I found handmade crochet pieces from another time. Twice a week I travelled through time and the history of clothing.