Variations Angels, about
Variations Angels is one of the first collaboration with the Russian Artist and Photographer.
Daria Marchik is a photographer, visual artist, art director and creator of ambiguous art forms. She focuses on her work on eccentric form of non-conformity. Evolving between Russia, UK, Ukraine, USA, Switzerland and Berlin, she explore Grotesque Burlesque Scene and Performers, glorifying role play, body modification, Female Ambivalence and Retro-Romantism.
Variations Angels By Daria Marchik is the collection that opens me as well the world of Daria through several collaborations I did with her, in Berlin and in Kiev. That's when our collaboration started. Her sensitivity to colors and extravagance are qualities that brought us together. After Variations Angels By Daria Marchik, we later worked together on other editorials and on installations and performances, in Kiev for the Gogol Festival.
"Daria: I work with costumes in making a human installation. There is always an element of nature in it, like in a fairy tale. The outwear or the second skin on my characters, so to speak, is a dramatized persona or an image of the future… I think it is a merger…industrial evolution of our time merging with the natural eco system merging with fantasy characters. They are my fantasy. I would say it's how I see the future. I really love nature and I incorporate it in the projects. Art is beautiful but what was created naturally is most beautiful.
Everything from forests to insects inspires me… Humans look a lot like a natural world, but we have lost the understanding that we belong to the same eco system. All my characters are unique and they are exaggerated of fantasy, but they are real…Real performers, real people with their fantasies and their own inner world. I try to express this in photography and illustration. Although the things I find beautiful are often not traditional beauty…"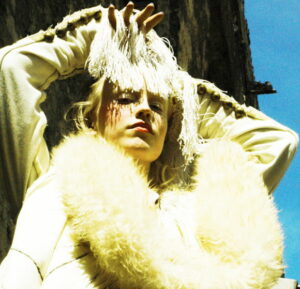 Variations Angels By Daria Marchik and other Collaborations
For the collections show, I worked according to the 13 planets guide.
This collection has had many offshoots. First of all, for the show, I wanted to create masks related to this theme I had in mind, Shamanic Variations. A big cross-cutting inspiration in my work.
First of all, I collaborated with Elisa Cucinelli, then an art student in Berlin. She made flesh-coloured, laser-cut latex lace for the masks.
The series of masks has been photographed several times by Valquire Veljkovic, Madame Péripétie and Daria Marchik. The masks and a part of the collection will also be part of an installation with Roman Ermakov and Daria Marchik at the Gogol Festival in Kiev.
With this collection I also made my first collaborations with photographers for look books and editorials: Damien Vignaux and Daria Marchik ( Variations Angels By Daria Marchik, 13 by Daria Marchik).
Here you can also see more photos of the unique pieces made that year under the sign of Variations Chamanes.
Variations Angels By Daria Marchik Inspiration
Variations Chamanes is to be understood in the sense of variations on a theme or musical variations. The shaman is a person considered by his tribe or group as an intermediary or intercessor between humans and the spirits of nature.
Variations Chamanes dreams around these dimensions attached to the role of the shaman, "sage, therapist, counsellor, healer and seer". The shaman is the initiate or repository of the culture, beliefs, practices of shamanism, and a potential form of 'cultural secret'.
The influence of traditional dress and costume as magical adornments is also very important in my work. The notion of a unique, particular, magical garment.
Variations Chamanes because, as often happens, my inspiration is made up of scattered thoughts, reveries on themes, on readings, or images seen. I don't pretend to know anything about it. On the other hand the poetic force is the source of my inspiration.